Leading and Developing High Performance by Dr Derek S Biddle.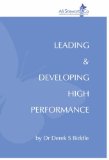 You can buy this leading and developing book from Amazon by clicking on the book cover here or on the right hand sidebar. If you would prefer you can buy it direct from Ali Stewart & Co or get in contact with the publisher who will send it out to you direct.
"The unique selling point of Derek's book is that it tells managers how to behave to become accepted as leaders. There are lots of books on leadership but very few are so practical and applied."
Geoff Ribbens, author 'Understanding Body Language in a Week' and 'Body Language' (Hodder Arnold)
Ali Stewart and Derek Biddle (Chartered Occupational Psychologist) have been working together for nearly 20 years and the Leading and Developing High Performance book and programme is the culmination of extensive research within a variety of different industries and market sectors. Instead of the usual series of disordered modules, this programme takes leaders and managers on a clear path from transactional to transformational leadership. Leaders and executives readily associate with it because, very simply, it makes sense.
The origins for the book was research into what high performing leaders actually do to create continuing high performance on a day by day, week by week basis. What they do in fact is not a black art and was performed at an intuitive level. They had a particular way of doing things and a consistency of approach that others failed to apply. The process and mind-set for leading and developing high performing teams can be learnt and mastered.
"The mystique to Leading and Developing High Performance isn't a mystique at all really, but a readily understandable and accessible process. It is not to do with who you are, but what you believe in and what you do."
Dr Derek Biddle, Leading and Developing High Performance
Leading and Developing High Performance direct from publishers.
Send Cheque £24.95 + £2.75 postage to:
PDG Books Ltd,
c/o 1 Tarn Court,
Ilkley,
W Yorks,
LS29 8UE.
Please provide details of delivery address and contact details.
Cheques to be made payable to PDG Books Ltd.
We will aim to dispatch book(s) on the following working day of receipt of order.
For orders of more than one copy or from outside UK and NI, please email PDG Books for further details.
Any queries re delivery times etc can be directed to PDG Books.